Russian Christmas has been an important feature in the Calendar of our adopted children over the last 10 or so years. RIAG have tried to run an event every year and as the children turn into tweens and teens – we are looking for something that works for them everyone.   With the event below – we are aiming to please all age groups.   Read on…..
The Dates: Saturday 4th and Sunday 5th January – with one night staying over at the Annebrook Hotel [Optional]  https://www.annebrook.ie/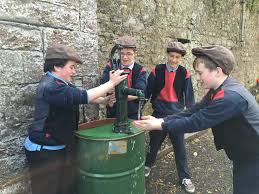 Order of events: 
Saturday – Victorian Escapade, Clonard House with activities 2.00 – 5.00 p.m. 
Clonard House are putting on a Victorian Escapade for us again this year.  This is a chance for the children to dress up as Victorian staff (downstairs) and then move upstairs to play Lords/Ladies.  Parents can get involved too – lots of games along the way.  If you want to know more about the Victorian Escapades see:- http://victorianescapade.com/history-of-clonard-house/.
As we did last year – Activities will be managed by age group.  Parents are welcomed and encouraged to stay with the Children of 11/12 and under but for Tweens and Teens that want to be in the 'older' group – it's a Parent Free zone I'm afraid.    The older kids call their own activities which was a great success last year for fun and connections with other Tweens and Teens.
 For the younger ones – the activities are more structured – and  with their parents they will make their way around the house – doing what folk did in 'Olden Times' but having a good laugh on the way.   If you were at this event last year, the type of activities will be similar but not all the same.
Children and Adults will have access to plenty of food and refreshments.
Cost:  €25 per person attending [adult and children]
Please send a mail to riagcontact@gmail.com – confirming the number of adults and children (together with ages) e.g. I confirm that we are interested in the Christmas event in Mullingar.  We will be 2 x Adults and 3 x children (16,12,8)
You will then receive a paypal invoice for €25 x number of adults and children in your party that should be paid ASAP.
[Note – the only part of the weekend that is paid via RIAG is Clonard House.]  Ice Skating, Swimming, The Hotel and Dinner are all booked directly via the links here.
You don't get a more Russian Activity than Ice Skating – so  once we leave Clonard House behind – it is straight into Mullingar for Ice Skating at the Winterfest.  The Session we are aiming for is the 18.40 one on Saturday 4th.   You must book and pay for tickets directly through the link below.  RIAG are not organising these tickets.   This activity will last 1 x hour –finishing by 8.00.
Saturday: https://winterfestmullingar.ie/ Ice Skating at 18.40
Remember – book and pay for tickets in advance for this.   12 and under €13. Over 12 and adults €14.00.    Please give yourselves 20 mins in advance of skate off to get boots etc.  arrive 18.20 for this.
~~~~~~~~~~~~~~~~~~~~~~~~~~~~~~~~~~~~~~~~~~~~~~~~~~~~~~~~~~~~~~~~~~~~~~~~~~~~~~~~
Saturday Evening: Dinner at the Annebrook Hotel Mullingar 8.00 p.m  followed by:
Saturday night: Hanging out activity.
Adults – will hang with the Adults
Teens with the Teens – in their own space – away from the adults
Tweens and younger – adjacent to the Adults
The hotel has accommodation in both 'rooms' and apartments.  It is located in the heart of Mullingar, right beside the Mullingar Ice Skating, and Swimming pool and walking distance of Clonard House.  The agreed rates for RIAG are:
Saturday 4th January –  2 Bed Apartments
(Children under 12 complimentary)
2 sharing €150.00 Bed & Breakfast
3 sharing €195.00 Bed & Breakfast
4 sharing €230.00 Bed & Breakfast
5 sharing €255.00 Bed & Breakfast
 e.g. 2 adults and one child (age 9) – €150, 2 adults and one child (age 14) and one child (age 9) – €195
Please email reception@annebrook.ie or ring 0449353300, and mention the Riag group booking (Reference GA000672) to get the agreed rates and 2 bed apartment accommodation.
~~~~~~~~~~~~~~~~~~~~~~~~~~~~~~~~~~~~~~~~~~~~~~~~~~~~~~~~~~~~~~~~~~~~~~~~~~~~~~~
Sunday morning: Mullingar Swimming Pool which is in the same area – is open from – 10.00 – 12.00 p.m. This may suit the younger children and the older ones may fancy some more Ice Skating……whatever is decided – the main thing is that they are having fun and craic together.
This is a lovely event – was really popular last year and the families that stayed the night had a wonderful time watching the children bonding and developing their friendships.
We look forward to it being a great success.
Mary MacCabe
086 816 7099